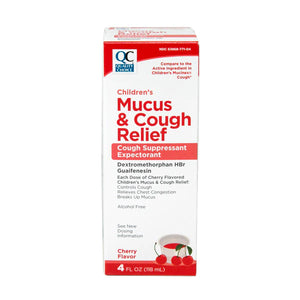 Compare to the Active Ingredients in Children's Mucinex Cough.
Helps loosen phlegm (mucus) and thin bronchial secretions to rid the bronchial passageways of bothersome mucus and make coughs more productive.
Temporarily relieves cough due to minor throat and bronchial irritation that may occur with the common cold or inhaled irritants during the intensity of coughing or the impulse to cough.
Alcohol-free
For ages 4 and over.
Dosage cup included.
Cherry flavor.